25th Annual BMDCNC Holiday Party 
& Winter Membership Meeting
Saturday, December 14, 2019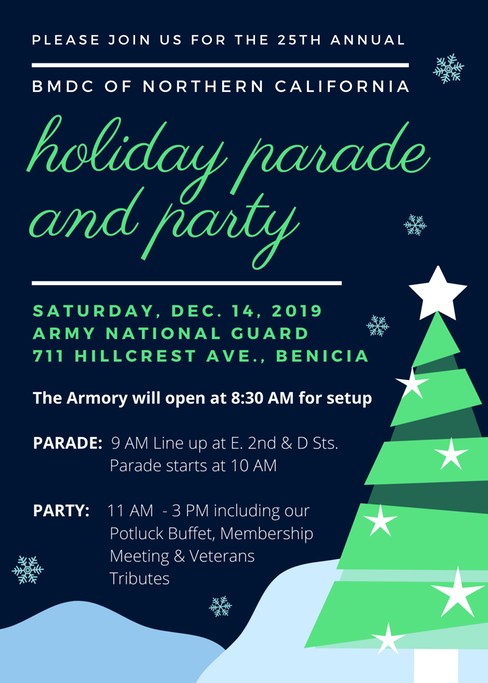 Schedule
  8:30 AM  Setup and dropoff before parade
  9:00 AM  Assemble for Benicia Parade at E. 2nd & D Sts.

11:00 AM  Holiday Party starts at the Armory
     NOON   Potluck Luncheon Buffet
12:30 PM  Membership Meeting
  1:30 PM  Veteran Dog Tribute
  3:30 PM  Cleanup (volunteers needed)
Bring your favorite holiday dish for the Potluck Buffet! 
Last Name A-G: Please bring a Side Dish 
Last Name H-P: Please bring a Main Dish 
Last Name R-Z: Please bring a Dessert 
The Club will provide Appetizers and Beverages.   
(There is no oven available but there is a microwave for heating) 
We welcome your donations for our RAFFLE AND AUCTION table. Pet or people items will make a wonderful addition to the fundraiser. 

You can drop off your food and gear before the parade. Don't forget to bring your ex-pens or crates as dogs must be confined during lunch and the meeting. 

VETERANS TRIBUTE: If you are a BMDCNC member blessed to share your home with a Berner who will be 7 years or older by December 31, 2019, please fill out and email the Veteran Tribute Form by December 2nd! 


BMDCNC Holiday Party & Parade Flyer
BMDCNC Veteran Tribute Form