Events count toward membership requirements unless noted otherwise.

New Event ideas are always welcome.  Please contact any board member with your ideas.
15th Annual Bernese Mountain Dog Day
Sunday, October 1, 2017! 
For more information and directions visit Farmer John's Website.

Our heartfelt thanks to those who came from near and far again last year. We had over 140 Bernese guests at 2016 Bernese Mountain Dog Day! We visited with 13 year olds down to those fluffy little puppies! Bring your Berner Friends This Year or Just Come to Enjoy the Pack! Be sure to take pictures! Our Clara Honey and her cousin Chloe will be ready to welcome their old and new pals, and Farmer John will be ready for hay rides for his furry friends! If you see someone with a Berner, spread the word...

Hosted by "Farmer" John & Eda Muller, Half Moon Bay 
 *This is not an official BMDCNC event*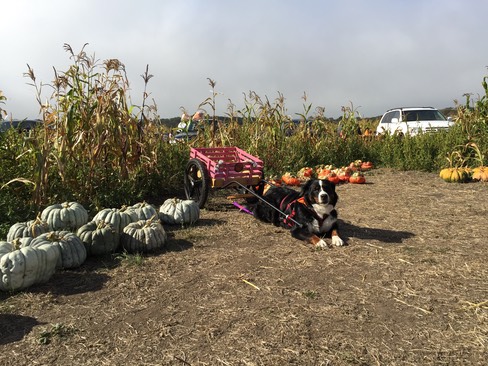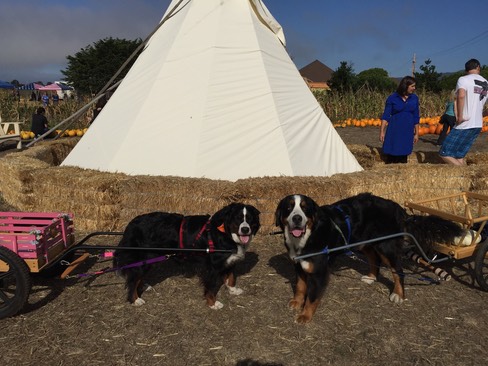 BMDCNC Board Meeting 10am
In-person meeting before Fall Picnic
Agenda TBD  
Any interested parties are welcome to attend. Please contact: Debbie Christian, BMDCNC Secretary for details
Meeting is Canceled
Fall Picnic & Membership Meeting
Saturday October 14, 2017
Heron Group Picnic Area, Kennedy Park
2296 Streblow Rd., Napa CA 94558-6211 (www.cityofnapa.org)Napa, CA
11am-3pm
10:00 Board Meeting
11:00 Arrive: Get settled, mingle and enjoy appetizers.
12:00 Potluck BBQ: Bring your own food to grill. We will supply the fire. Last names A-K: Please bring an appetizer to share
Last Names L-Z: Please bring a salad or side dish to share.
The club will provide beverages, eating utensils and dessert.
12:30 Membership Meeting Agenda:
Member, Applicant and Guest Sign In Approval of Minutes
Officer and Committee Reports
Unfinished Business, followed by New Business
1:45 Presentation
Disaster Preparedness
Brian Whipple, Operations Manager, Sonoma County Animal Services
Don't forget leashes, ex-pens etc. There is shade but you may want to bring a pop-up in case. 
Friday, Nov. 3, 2017 ~ Saturday, Nov. 4, 2017 ~ Sunday Nov. 5, 2017

BERNESE MOUNTAIN DOG CLUB of AMERICA DRAFT TESTS

Hosted by the 
Bernese Mountain Dog Club of Northern California

Location:
Bohlig Haus, 5355 Timberland Drive
Foresthill, CA 95631

Draft Test Judges:
Friday:  Patti Davieau & Jasen Duncan
Saturday: Patti Davieau & Barry Solomon  
Sunday:  Barry Solomon & Jasen Duncan

Draft Test Chair: Jim Maxwell
Draft Test Recording Secretary: Cindy Beckman

Closing Date: Tuesday, Oct. 24, 2017 at 11 p.m. PST
All Entries & Forms go to Draft Test Secretary Cindy Beckman
Premium List (includes Entry & Meal forms)
Draft Test Entry (form only)
Order Form (form only: fill in on your computer)
Order Form (form only: fill in by hand)
Draft Test Entry Payment by Paypal

Meal Payment by Paypal

Questions?  E-mail: Draft Test Chair


* Eligible Dogs: Purebred or mixed heritage dogs who are registered or listed (such as PAL, ILP, Canine Partners, etc.) with the American Kennel Club or the Canadian Kennel Club. 
Winter Holiday Party, Veterans Tribute & Membership Meeting
Benicia, CA - Location TBD