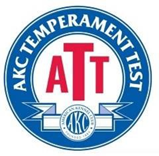 Two AKC Temperament Tests
Test 1: Saturday, November 5, 2022 at 9:00 AM - Event #2022615702
Test 2: Saturday, November 5, 2022 at 1:00 PM – Event # 2022615703
These Tests will be held outdoors at
5355 Timberland Drive, Foresthill, CA 95631
Test 1: Entries limited to 30 dogs.  Test hours: 9:00AM to 12:30 PM
Test 2: Entries limited to 30 dogs.  Test hours: 1:00 PM to 4:30 PM
PRE-ENTRIES for Both Tests CLOSE:
Friday, October 28 at 11:00 PM Pacific Daylight Time
DAY-OF ENTRIES allowed if space available:
Test 1 Day-of Entries start at 8:00 AM

Test 2 Day-of Entries start at 12:00 PM
Download the Premium & Entry Form
Please refer to the Premium for all event details and entry information.
2022 AKC TEMPERAMENT TEST PAYMENT via PAYPAL
We are happy to be able to provide an online payment option via PayPal for your entries!  Online entry fees include a PayPal processing fee. Please pay for each entry form separately. 
You must still send completed entry forms by email or mail to the Event Secretary so they are received by the closing date for your entry to be complete.