BMDCNC REGIONAL SPECIALTY AT WOOFSTOCK

SATURDAY, JUNE 11, 2022
SATURDAY DESIGNATED SPECIALTY WITH CONTRA COSTA KC

SWEEPSTAKES, VETERANS SWEEPSTAKES, BREED CLASSES

BMDCNC SUPPORTED ENTRIES AT WOOFSTOCK

THURSDAY, JUNE 9, 2022
FRIDAY, JUNE 10, 2022
SUNDAY, JUNE 12, 2022
Solano County Fairgrounds, Vallejo, CA
The BMDCNC will be offering fabulous trophies, morning hospitality, a raffle with awesome items, and a ringside luncheon with our judges (available for purchase). Premium and entries at  infodog.com (MB-F).

The show entries are now closed.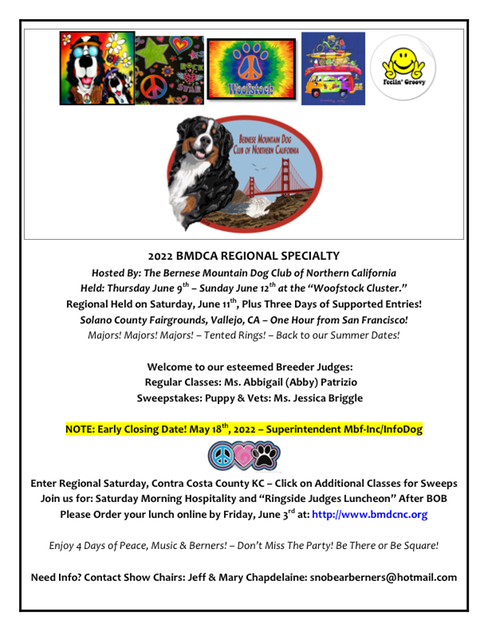 Join us for the BMDCNC Regional Specialty Ringside Luncheon with the Judges!
Saturday, June 11, 2022 
immediately following Best of Breed
Menu includes your choice of: 
Roast beef, roast turkey, or vegetarian sandwiches. served on a french roll with your choice of condiments; 
Fresh vegetables with or without cheese
Several delicious salads and fruit choices
Chips, drinks and Dessert bar!
All this for $15.00
Advance purchase only, please reserve now!
Download the Lunch Order Form and pay by check here.
Or use PayPal to order now: